Daikin Air Purifier MC55YPVM
Regular price

Sale price

$665.00

Unit price

per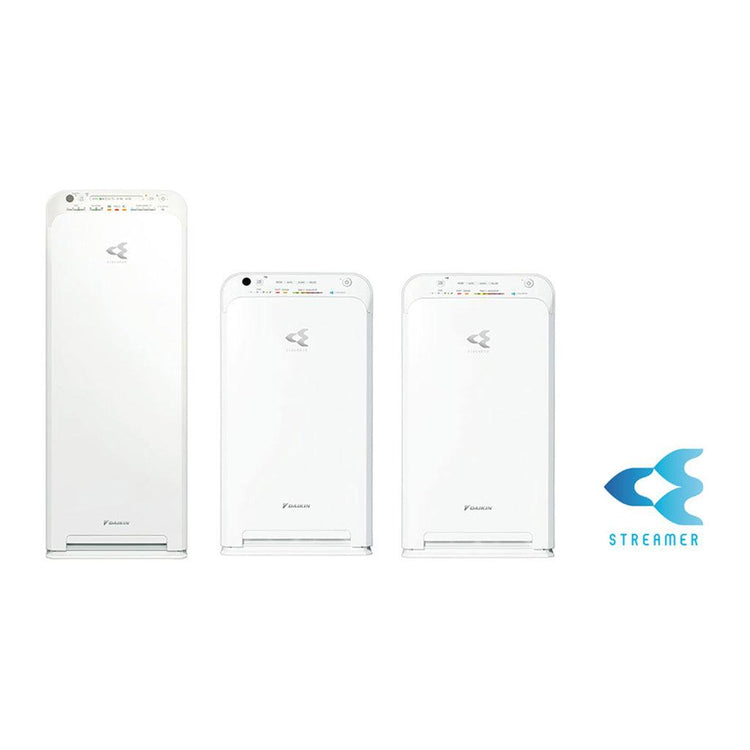 Daikin Air Purifier MC55YPVM, Approved by the National Asthma Council Australia
Daikin's new range of Air Purifiers with Streamer Technology is designed to capture, suppress and break down pollutants such as mould, pollen, allergens, odours, formaldehyde, traffic pollution and dust. Perfect for allergy sufferers!
Suitable for

 

rooms up to 82m²
New electrostatic HEPA filter

 

and PM2.5 sensors. 
Wireless remote controller
Super low maintenance the filter only needs replacing approximately every 10 years* Depending on use.
Four layers of filtration
1. Prefilter Captures larger particulates such as dust, bacteria and allergens to ensure unimpeded operations of other filters in the system.
2. Daikin Streamer Technology Discharges high-speed electrons gathering powerful oxidative decomposition that continuously removed odours, bacteria and indoor air pollutants such as formaldehyde.
3. High-Efficiency Particulate Filter (HEPA) A maintenance-free electrostatic filter able to remove 99.97% of fine dust particulates
4. Deodorising Filter A maintenance-free electrostatic filter is able to remove 99.97% of fine particulates.
What Size Air Conditioner Do I Need?
Having the correct sized air conditioner is important. It allows the system to
Cool the area effectively
Remove the correct amount of humidity from the air
Be the most energy efficient option
Reduce motor stress on the main components
Increases reliability and reduces breakdowns
The truth about installing the right size air conditioner is simple. It will give you the most reward, performance and reliable operation for years to come, even on the warmest day of the year in summer.
All systems sold by Acbrisbane have a 5 year manufacturers warranty parts and labour. For more details refer to each Manufacturers warranty guidelines.
View our warranty page