Daikin 5kw Split System Air Conditioner | Zena FTXJ50TVMAW
Daikin |
Model: FTXJ50T-W
Regular price

Sale price

$2,100.00

Unit price

per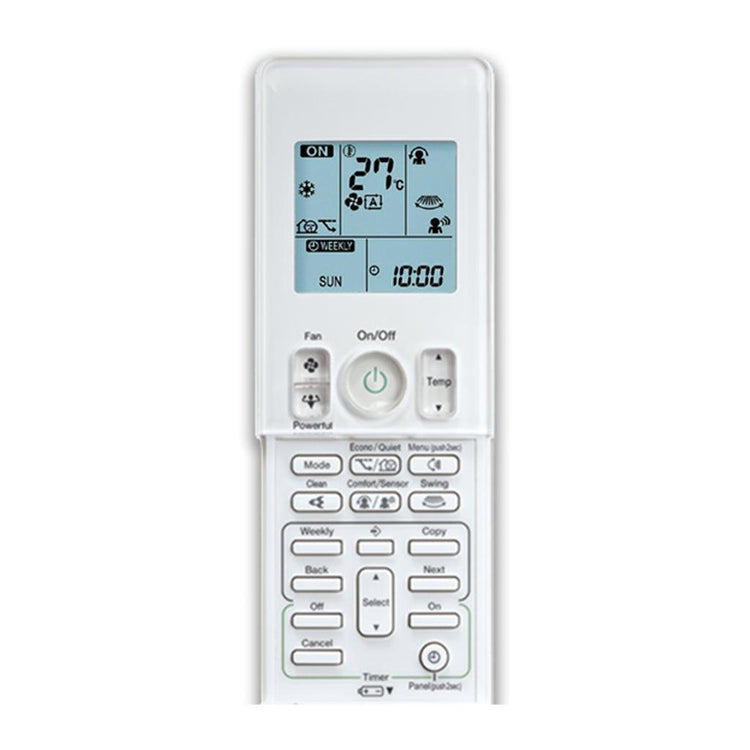 Daikin Split systems are ideal for air conditioning in one room or area of a home. Daikin's new ZENA series is designed with energy efficiency in mind, aesthetic appeal and a compact form factor, as well as built-in WiFi connectivity, so you can control your temperature from a smartphone no matter where you are.
Available in White Hair Line or Black Wood finish.
R32 Refrigerant: Enables increased energy efficiency and a significant reduction in the 'Global Warming Potential Factor' - great for the environmentally conscious.
‍Ultra-Compact Design: Zena not only exudes elegance in design, it is packaged in an ultra-compact discrete casing size of only 295mm high, 798mm wide and 185mm deep.
‍Built-In Wi-Fi: Wi-Fi module for connection to Daikin's D-Mobile smartphone interface is now conveniently included inside the casing of the indoor unit.
‍D-Mobile App: All you need is a permanent internet connection for your Wi-Fi network and an internet connection for your phone or tablet. You can monitor and control your system from virtually anywhere.
‍2-Area Intelligent Eye: An infrared human presence sensor helps prevent cold draughts and enables energy-saving operations when the room is unoccupied for 20 minutes.
‍Coanda Airflow: Discharge louvres are designed to stream air along the ceiling for longer throws and deliver rapid cooling and temperature distribution.
‍Vertical Airflow: During heating operation, the discharge louvres stream airflow down the wall and towards the floor for improved temperature distribution and comfort
Flash Streamer Technology: Decomposes bacteria and mould absorbed on the filter by ionisation through an advanced plasma electric discharge.
Advanced Filter: The titanium apatite deodorising air purification filter traps microscopic particles, decomposes odours and even deactivates bacteria.
What Size Air Conditioner Do I Need?
Having the correct sized air conditioner is important. It allows the system to
Cool the area effectively
Remove the correct amount of humidity from the air
Be the most energy efficient option
Reduce motor stress on the main components
Increases reliability and reduces breakdowns
The truth about installing the right size air conditioner is simple. It will give you the most reward, performance and reliable operation for years to come, even on the warmest day of the year in summer.
All systems sold by Acbrisbane have a 5 year manufacturers warranty parts and labour. For more details refer to each Manufacturers warranty guidelines.
View our warranty page